Case studies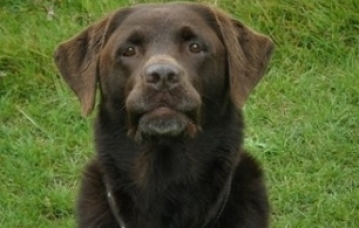 Jess (distant healing - dog)
"When my 11-year-old chocolate Labrador Jess suffered complete paralysis over the course of 24 hours I was fortunate to have the excellent medical care of the Royal
Vet College, but Jess was extremely ill for a number of weeks and had no movement in any of her limbs. It was determined that she had polyradicular neuritis - a condition where the immune system attacks the spine. No medication could be prescribed; it was simply a case of waiting for the swelling on the spine to subside. Some dogs make it, most don't, and it is very dependent upon the nursing care, the dog's motivation and the owner.
"The RVC were performing daily physio. Jess could not weight bear but she was able to crawl along the floor commando-style. Every inch she moved took forever. Progress was extremely slow, and she was terribly depressed. It was as though she had given up.
"I heard about Jenny as an animal healer. I was a little dubious about the distant healing but decided to give it a go. My Jess had been with me for 11 years, been through all of life's issues, I couldn't give up on her so I contacted Jenny.
"When I received her response I immediately warmed to her. I could tell she was one of life's wonderfully kind people. She offered some distant healing as she lived quite a way away, telling me that she would do this one day over the next few days. I visited Jess daily and on the Sunday nurses approached me before I went in saying that they didn't know quite what was going on with Jess but she was in such high spirits and completely hyperactive! It was like I was visiting a different dog. Whilst she could not bear any weight on her legs still, her tail was wagging furiously, she crawled all the way across the room to get to me and she was so happy. She did not sit still for the whole time I was there. I later found out that Jenny had performed the healing on her that very afternoon.
"From this point on she made the fastest progress she had made to date. She really went from strength to strength until the day that she got herself up and just walked over to one of the nurses! The staff were in awe of her progress.
"If you are reading this you are clearly considering asking Jenny for help because your animal is sick. I have no hesitation in my belief that without Jenny's help my Jess would not have made the quick recovery that she did. Jess was in the RVC for just over six weeks and there were occasions when we thought she would not make it. When Jenny performed her distant healing all that changed and she really improved hugely. Our animals are there for us through everything, and this was the least I could do for Jess." Lorna